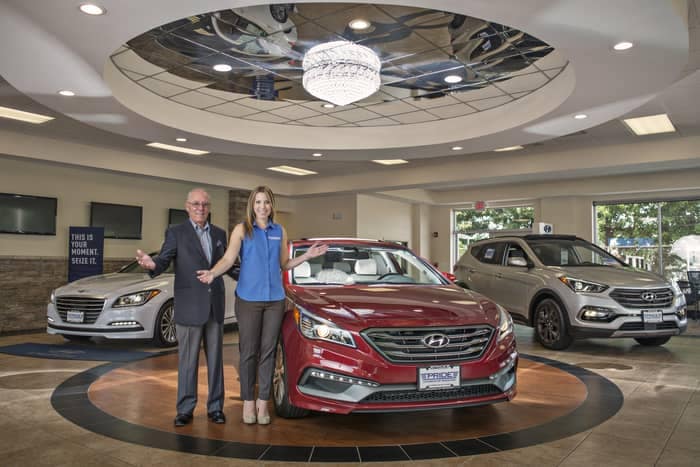 Thank you for considering Pride Hyundai of Seekonk!
We are a family-owned and operated dealership and have been for the past 40 years. In 1979, our founder Al Anjos opened the doors in Pawtucket, RI based on a simple, yet fundamental "Mom and Pop" philosophy… if it's not good enough for your own mom and pop, it's not good enough for our customers. The mission was simple… provide safe, reliable vehicles that have undergone a rigorous quality inspection at a fair price because that's what we would want for our loved ones. Coupled with treating the customer right and providing a world-class experience lead to rapid growth and we quickly outgrew our facility in Pawtucket, RI. In 1984 we relocated to a much larger facility in Seekonk, MA and have been proudly serving our customers and Pride Family ever since from our 11 Taunton Ave location.
Our founder has since "semi-retired" after many decades of hard work, leaving his daughter Lisa to run the operation under the same principles and philosophies. Today our company continues to run as a family affair. Our employees have become our extended family and share the same passion for providing quality products and unmatched service to everyone who walks through our doors.
We invite you to stop by, share a cup of coffee and get to know us and the amazing products we have to offer in the Hyundai lineup. We look forward to walking this journey with you as you navigate to find your perfect vehicle!
Pride Hyundai of Seekonk proudly offers outstanding quality in the Hyundai lineup along with a large pre-owned selection of quality cars, trucks and SUVs. So if you're hunting for a new Hyundai in Massachusetts or Rhode Island, look no further than the wide selection of new Hyundai models in stock including the all-new Hyundai Sonata and Palisade, all competitively priced and ready to be test driven! Boasting both new and pre-owned options, drivers in the Providence, Seekonk and surrounding areas can easily find the new Hyundai Santa Fe, used Hyundai Tucson or any other Hyundai you've been looking for.
Professional Hyundai Certified Technicians
Whether you have just found your car on our Hyundai dealership sales lot in Seekonk, MA or you have been driving "old faithful" for decades, you want a technician you can trust. Here at Pride Hyundai of Seekonk, our on-site Hyundai service center is a great place to get top-notch maintenance and repairs from a trusted source. We know Hyundai inside and out, and all our technicians are factory certified to work on your vehicle. We can provide you with quality service for all your automotive needs, including oil and filter changes, brake pad inspections and battery replacements, to name a few, all at market competitive prices! Pride Hyundai of Seekonk has an on-site part department as well, so you can always find the high-quality auto parts you need for a repair at home. Whether you own a Hyundai or vehicle from a different automotive brand, you can enjoy professional auto services from Pride Hyundai of Seekonk. Make your next auto service appointment today from the convenience of your own home through our online appointment scheduler.
Comprehensive Financing Options
If you are in need of a hassle-free auto loan for your new Hyundai or used vehicle purchase, or if you would like to start leasing a new Hyundai, then head to the finance department at our new and used Hyundai dealership in Seekonk, MA, just over the East Providence state line. We have an experienced credit team standing by to assist you in securing a first-rate auto loan that fits your budget and financial situation. If your credit has been deemed "too new" or if you have no or damaged credit history, we can help! We own our own finance company and offer our customers a Fresh Start! You can even apply for auto financing on our website. It's quick and easy to start the process today!